A campaign that encourages people who bleed to shout loud and proud about menstruation—ending period stigma and telling the world that there's absolutely #NoShameHere.



→ Social Media

→ PR/Comms

→ Graphic Design

THE CLIENT:

Bloody Good Period is a charity that provides period products to refugees, asylum seekers and those that can't afford them. In recent years they've expanded; delivering high-quality menstrual education to various audiences, and working towards creating menstrual equity—all whilst ending shame, stigma and judgement around menstruation.


THE IDEA:#NoShameHere,

a virtual campaign launced on International Womens Day 2021, encourages people to shout loud and proud about their periods whilst also ending menstrual shame, stigma and taboo.

As Bloody Good Period's social media manager, I contucted online polls to gather research and insight (in addition to Bloody Good Periods Employers Report—

which I designed

—that explores employers attitudes towards periods in the workplace whilst encouraging change: more information

here

), and liaised with BGP ambassadors, influencers and celebrities to share the campaign. I also created the No Shame Here stamp—the campaigns main logo. Other creative assets were created by Henny Shaw and Jessica Meyrick, members of BGP's Creative Network.

The 'No Shame Here' campaign encouraged supporters to start conversations and celebrate a lack of menstrual shame—for example, by not hiding period products or shying away from conversations around menstruation.
X
In research conducted prior to the campaign launch, we found that:

74% hide their period products when going to a public/shared bathroom

56% hid/have hidden period products because of 'shame'

47% hid/have hidden period products because of 'negative / dismissive comments'
97% hid/have hidden period products because it's "the norm" / internalised'



People also shared their stories with us, and told us why they felt ashamed and/or hide their period products:


"Being on your period is a valid argument to dismiss your emotions, especially anger."
"Typical teenage boys being rude and saying it was gross/yuck/unclean etc."
"The pad in my pocket was showing, the girl sitting next to me silently pointed as if it was shameful."

"I know it's that once people know, they attribute all of your actions to it and that annoys me beyond belief!"
"Embarrassed about people knowing I do still. I'm 42."
"I don't want people to view me any differently when I menstruate."
To do this, we encouraged participants to tell their stories, post a selfie showing their zero-shame approach to periods, share one of our pieces of

art

or create their own.

We also asked supporters to share the love by nominating and tagging friends to join in, and to donate a fiver to BGP if possible—helping to provide period products to those that can't afford them.
X
Though the campaign launched on International Womens Day, we wanted to make it clear that this was a campaign for everyone, menstruating or not. If people were interested in getting involved, but didn't want to share our materials, that was absolutely fine too—we encouraged them to interpret the campaign in any way that was meaningful—helping to take down patriarchal period shame that's existed for way too long.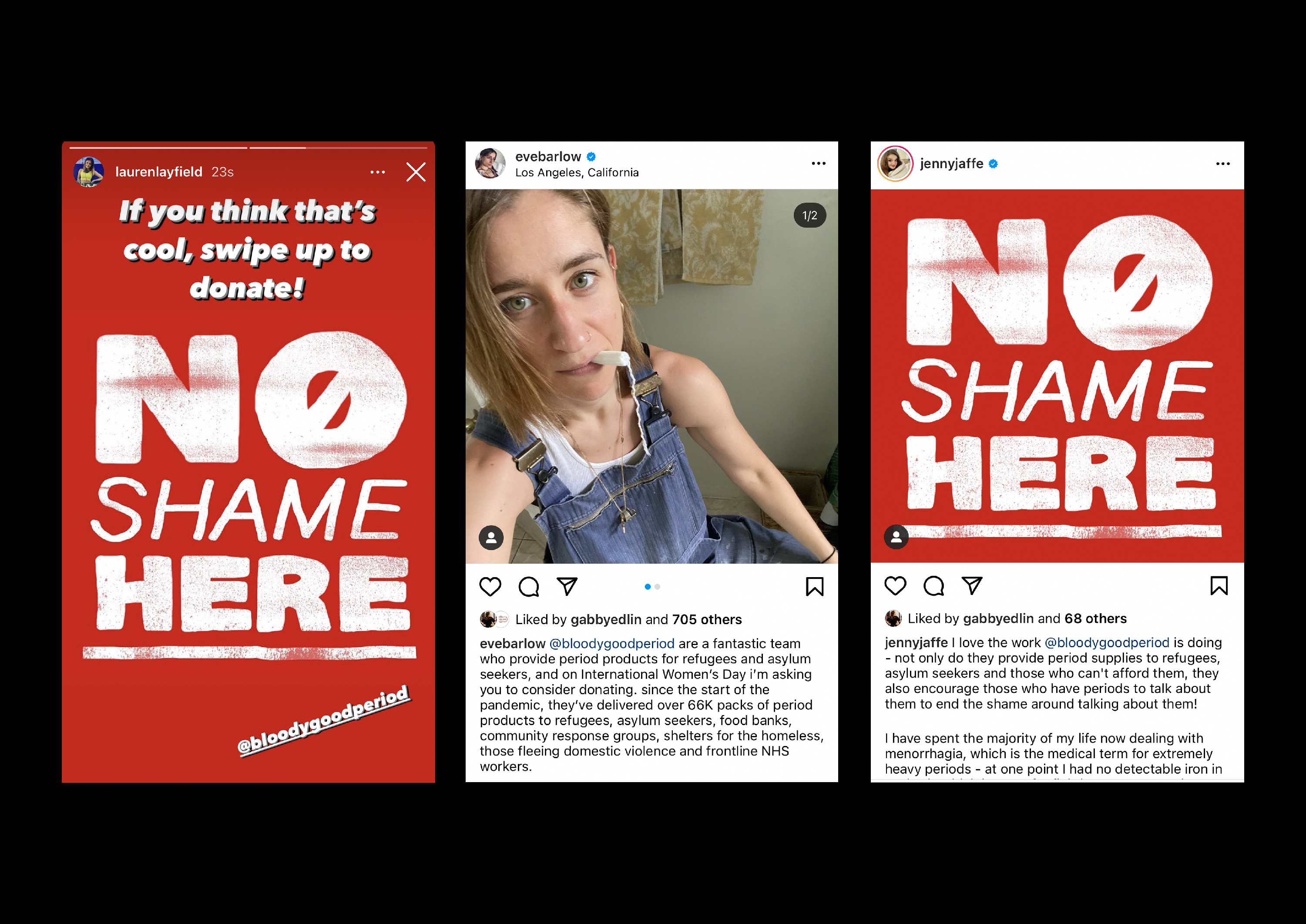 People were open and honest, and lots of great discussions were had on the day. Through the campaign we also raised over £6.5k in individual donations for the charity in two days, and £9k in buisness donations over the week.

X
The engagement around the campaign was incredible: loads of people got involved—we reached almost 20,000 people with our own Instagram posts, with supporting influencers reaching even more than that.
Bloody Good Period was also featured in

Stylist Magazine

and

The Evening Standard

on International Women's Day, pointing readers to our campaign.

BGP also hit the 50k follower mark on Instagram the following week, and passed the 70k product donation mark a few days later for 'packs of pads donated since the start of the UK lockdown in 2020'. Many new supporters (and new regular monthly donors!) found out about the charity through the #NoShameHere campaign.

Bloody Good Period plans to keep the #NoShameHere campaign going, and want to give it a monthly push—encouraging supporters to get involved, share more stories and keep saying no to period shame.